Huge news for Michigan basketball today as the #4 player in our 2012 rankings, Mitch McGary, has decided to commit to the Wolverines. Heading into his announcement today on ESPN U, McGary listed Michigan, Florida, and Duke as his final three. Ultimately he chose Coach Beilein's Michigan Wolverines.
McGary's commitment gives Coach Beilein a very strong 2012 class, McGary will be joining Nick Stauskas and Glenn Robinson III who are both top 100 guys themselves. 
The real story in McGary's decision, is the fact that Michigan was able not only land a top-5 guy but it's who they beat out for his services: Duke, Florida, Kentucky, and North Carolina. This is huge for Coach Beilein's future recruiting and the Michigan program as a whole.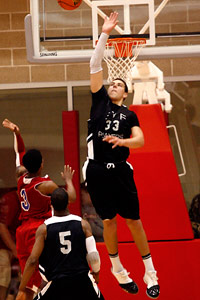 "Looks like I'm going to be a Wolverine," said McGary, a 6-foot-10 senior forward at Brewster Academy (Wolfeboro, N.H.) and native of Chesterton, Ind. "It was a hard decision, obviously, but when I started to focus on just what I was feeling, I kept going back to the fact that I felt like I could trust the Michigan coaches more than any other staff."
"No disrespect to Duke and Florida, but the whole Michigan staff came across like my brothers but coaches at the same time. I could tell them anything. That was key for me."
Most kids want to go to UNC, UK, Duke etc. because of their recent and historical success, but McGary felt quite differently.
"Both Duke and Florida have had established programs for years and have won titles recently," McGary said. "I didn't like that as much as I liked the idea of coming in and helping to turn Michigan's program around. That's more of a challenge for me. With lots of hard work I hope to make a huge footprint in the program. For right now, I'm just happy with my decision."
McGary also addressed the rumors that his AAU coach was pushing him to attend Michigan.
"Just to be clear, coach Brumm didn't have a say in my decision," McGary said. "The discussions were between me and my parents, but the decision was 100 percent mine. Coach Brumm's done a lot for me, but this was up to me to decide.
"With that said, I really appreciate the other two schools recruiting me. I've got a lot of respect for coach Mike Krzyzewski and coach Billy Donovan. They did a great job recruiting me, but I'm excited to be a part of the Michigan family."
"Zack Novak was my old high school teammate, so we're tight," McGary said. "Then you've got guys like Jordan Morgan and Tim Hardaway Jr., who have treated me like I'm their teammate already. Then my AAU teammate Max Bielfeldt is a freshman there, too. I'm going to be with my family. Plus, I think we can be national title contenders my first year with all of the talent we'll have. I'm excited."
Follow Reid on Twitter at @Rtwenty1A
Follow Hemingway of the Hardwood at @HoopsHemingway